14 Mar
9 Reasons to Intern in Lisbon This Summer
Lisbon is the capital city of Portugal, and the westernmost city in mainland Europe. With its iconic bridge, its traditional trams traversing steep streets, and its friendly people, Lisbon is commonly known as the sister city to San Francisco. Interning in the oldest city in Western Europe you can expect to encounter beautiful local architecture, an ancient heritage mixed with striking modernism and progressive thinking, and a vibrant, charismatic and welcoming atmosphere.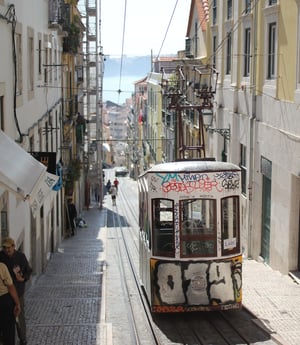 A hub for creativity, culture and commerce, Lisbon has been named one of the world's most liveable cities. In this article, we've struggled to limit ourselves to 9 reasons to intern in Lisbon.
During your summer internship abroad, you'll gain hands-on professional experience and build a network for your future career, all while experiencing this beautiful part of the world. Your internship in Lisbon will make you stand out from your peers in an increasingly crowded job market. Discover other reasons to live abroad, or keep reading to understand why you should intern in Lisbon this summer.
1. Low Cost of Living
One thing that Lisbon and San Francisco are not so similar in is cost of living. We're talking about one of the cheapest countries in Europe. The prices in Portugal make it easy for you to explore all there is to explore, wine and dine in local restaurants, and sign up for exciting activities with your new international friends without spending much money.
That's on top of all the trips and activities already included in your program - the question is whether you'll be ready to leave when your internship is over!
2. International Student Hub
The previous point helps make Lisbon one of the most common destinations for students on their Erasmus or study abroad. When you arrive, you'll meet other interns on the Absolute program from around the globe, and experience the full student atmosphere in the streets and bars of Lisbon when university classes finish. Popular areas for students include the neighborhood of Arroios, São Sebastião, Bairro Azul or Intendente. What better way to grow your circle of friends and global network?
3. Excellent English Level
Probably in part thanks to all the international students, you'll see that locals have a great level of English, making it easy for foreigners to adapt to the new culture. Don't be surprised if you meet some friendly Portuguese people who want to show you around their city!
4. Buzzing Nightlife
Don't miss out on the local bars in Bairro Alto and Lisbon's Pink Street. The nightlife in the Portuguese capital needs to be experienced, and can be enjoyed on a budget. (That's another thing which reels in the international students.) Ready for some after-work drinks with your new colleagues?
5. Open Opportunities
Interested in embarking on an internship in Marketing, Entrepreneurship, Business Development or Architecture? Lisbon is full of opportunities in these industries among others, in companies who understand the value of cultural exchange! Overall, it's a fantastic destination to kick-start your professional career, while squeezing in some high-quality travel.
6. Absolute Accommodation
Ok, this is more specific to our program - but we really are excited about our Lisbon accommodation. At Absolute Internship, we strive to provide optimal living conditions in your destination of choice. This year, interns in Lisbon will be hosted in a beautiful student hotel located in the heart of the city, complete with swimming pool, fitness studio, cinema and library.
7. Delicious food & wine
Consider yourself a foodie? Portugal offers hundreds of first time foodie experiences. You just need to stroll around the streets to discover the best wine spots, and it'll be difficult to miss the delicious bachalau à brás, as well as the popular pastéis de nata!
8. Holiday Weather (Complete with Sea Breeze!)
Due to the relatively small size of the city, it's easy to soak up the sun while you walk from place to place (or take the traditional trams to move around the steepest streets). The weather is amazing, and the feeling you'll get when facing the Atlantic Ocean from Lisbon's seafront is incomparable!
In to surfing? The waves in and around Lisbon make it a great destination to practice the sport, or to try it for the first time!
9. Great Getaways and Blissful Beaches
As if there aren't enough beautiful beaches just a short train journey away, we'll also take you to the Algarve, known for its gorgeous Atlantic beaches and whitewashed fishing villages perched on cliffs which overlook sandy coves. With Lisbon being the oldest city in Western Europe, it's not surprising that it's surrounded by spots of interest, like the masonic mystery of Quinta da Regaleira.
Immerse yourself in a vibrant and dynamic culture this summer!